Pallet Delivery & Courier Service
International Pallet Delivery to UK & Europe
Our pallet delivery courier service expertly handles the intricacies of European pallet shipping. With our reliable pallet freight shipping, we offer seamless, cost-effective solutions to send pallets in the UK & EU. Get your pallet quote now for hassle-free transport across Europe.
EU & UK Wide Coverage
Bespoke Size Solutions
Varied Shipping Options
Professional Experienced Team
Business-to-Business Deliveries
UK Amazon Fulfilment Centres Deliveries
Get a free pallet quote today
Send Pallets in the UK and Europe
Barrington Freight is a leading UK freight forwarder that offers pallet shipping services to all countries in Europe. We can also help with palletised deliveries to European destinations that are not part of the main continental landmass, including Cyprus, the Republic of Ireland and Crete, to name but a few. 
We have a team of experienced professionals who can handle all aspects of your pallet shipment, from collection to delivery. We offer a range of shipping options to suit your needs and budget, and we are committed to providing our customers with the highest level of service.
How does it work? 
To ship a pallet with Barrington Freight, simply get in touch with our team and we will provide you with a pallet shipping quote. Once you have accepted the quote, we will arrange to collect your pallet from your premises and deliver it to your chosen destination in Europe. We will keep you updated on the progress of your shipment throughout the process, and we will ensure that it arrives safely and on time. We can also help with EORI Numbers and act as your customs clearance agent to ensure delivery of your pallets in the EU.
To get started simply give us a call 01268 525 444 or request an online pallet shipping quote.
Find out pallet delivery cost today
Why Choosing Barrington Freight for Shipping Your Pallets in Europe?
Fast, reliable, and effective European pallet shipping solutions.
Cost-effective competitive international shipping rates tailored to your needs.
Rapid pallet dispatch with local UK depot collection.
We maintain 24/7 contact with every vehicle, so you can always track your shipment and get regular updates.
Diverse delivery options including express, 48-hour, 72-hour, and economy groupage.
Comprehensive road freight services in the UK and Europe for business-to-business needs.
Expert team with extensive knowledge of the European freight market.

Wide range of pallet shipping services

, including dedicated courier vans.
BIFA membership and full liability insurance ensure safe and professional transport.
Commitment to excellent customer service, supported by glowing testimonials.
 Get A Free Pallet Shipping Quote Online
Pallet Sizes
Examples Of Pallet Sizes We Can Ship
Full
Length: 1200 mm
Width: 1000 mm
Height: 2200 mm
Max Weight: 1200 kg
Half
Length: 1200 mm
Width: 1000 mm
Height: 1000 mm
Max Weight: 500 kg
Quarter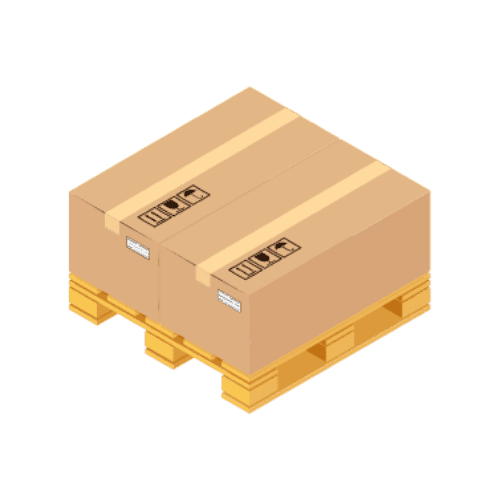 Length: 1200 mm
Width: 1000 mm
Height: 800 mm
Max Weight: 250 kg
Micro
Length: 1200 mm
Width: 1000 mm
Height: 600 mm
Max Weight: 150 kg
Bespoke
We don't just carry square pallets: we transport anything from a single carton to an entire production line of machinery. Get in touch for a custom quote tailored to your unique requirements.
What Pallet Sizes Can Be Delivered?
While there's no one-size-fits-all standard pallet size, our service excels in offering bespoke solutions. Our bespoke pallet freight solutions cater to any size or shape of pallet you need, along with any specific handling requirements: we deliver any pallet size to any destination, including:
UK PALLETS (120 cm x 100 cm) and EURO PALLETS (120 cm x 80 cm) are handled for delivery across EUROPE.
For PLASTIC PALLETS to Germany or PRINTER PALLETS to France, you can rely on our PALLET DELIVERY services throughout Europe.
For WOODEN PALLETS to Ireland or NON-STANDARD PALLETS to Spain, we TRANSPORT PALLETS everywhere.
We specialise in handling all types of pallet freight, including oversized pallets, those with special requirements, or shipments to remote locations. Our experienced team is dedicated to creating a customised freight plan tailored to your specific needs, budget, and timeline. No matter what your pallet freight needs are, we can help. Contact us today to get a free quote and learn more about our bespoke freight solutions.
Find out more about pallet shipping costs today
Send Pallets To Amazon Fulfillment Centres UK
Effortlessly send your pallets to Amazon Fulfilment Centres with our bespoke pallet shipping services, ensuring compliance with Amazon's specific guidelines for a seamless delivery experience.
Send Pallets To Amazon
When it comes to distributing your products through Amazon in the UK, ensuring your pallets are properly prepared and shipped to Amazon's fulfilment centres is crucial. Our service streamlines the process of sending pallets to Amazon, adhering to their specific guidelines and requirements.
Our team is well-versed in Amazon's pallet specifications, including size, weight, and packaging standards. We offer reliable pallet delivery to any Amazon fulfilment centre, ensuring your products arrive safely and on time. With our experience in Amazon FBA (Fulfillment by Amazon), we understand the importance of compliance with Amazon's UK rules, such as labelling and pallet configuration, to prevent any delays or issues.
Whether you're a small business or a large enterprise, we provide tailored solutions to meet your Amazon shipping needs. Our efficient tracking system allows you to monitor your shipment every step of the way, giving you peace of mind that your products are in safe hands. Contact us to find out more about our hassle-free pallet delivery services to Amazon and how we can assist you in expanding your business reach.
Get a pallet to Amazon quote today
Amazon Pallet Requirements
Specialising in UK Amazon FBA and UK-bound Amazon FBA deliveries from the Far East , we ensure your pallets meet Amazon's strict UK standards for successful import. Our services focus on:
UK Pallets: Use four-way access pallets measuring 1200mm x 1000mm for UK Amazon warehouses.
Height and Weight Compliance: Maintain a maximum height of 1.7m and ensure no carton exceeds 30kg, with total pallet weight under 1000kg.
ISPM 15 Standards: All pallets must be heat-treated as per ISPM 15 requirements.
Pallet Condition: Ensure pallets are damage-free and defect-free.
Clear Wrapping: Pallets should be securely wrapped in clear plastic, as Amazon may refuse black or opaque wrap.
Labelling: Attach Amazon labels on all sides of each pallet.
No Overhang: Contents must not exceed the pallet's edges.
Note on Pallet Exchange: Not available with Amazon FBA.
Please note, we do not deliver to Amazon FBA warehouses outside the UK or for imports not originating from the Far East.
Customer Reviews
The guys at Barrington are brilliant! I've used them for my shipments for around 12 years now and they never let you down. Always happy to help with anything!
Barrington Freight are extremely helpful and professional, promptly answering any questions or queries. Communication from them has been great and they have taken the difficulty out of importing freight.
Scott Glazebrook
2023-11-01
Our business is the supply of high end luxury furniture and as such we rely on Barrington Freight to provide a 5* delivery service which they have done time and time again. Reliable, friendly and efficient sums up this great approachable freight forwarding business.
Krishan Dhillon
2023-11-01
10/10, dealt with everything start to finish. Customer service was friendly and helpful
Sharmane Barrett
2023-10-20
We had a last minute request and Lee was fantastic in helping us to arrange transportation and facilitate delivery from Europe, very quickly with no hiccups. I would highly recommend.
Simon Edgecombe
2023-10-16
HAVING USED MANY SHIPPERS TO IMPORT OUR GOODS FROM THE USA (NONE OUTSTANDING) I DECIDED THIS TIME TO HAVE A SEARCH AROUND TO SEE IF I COULD FIND A BETTER OPTION. I FOUND BARRINGTON FREIGHT AFTER EMAILING MANY OTHERS, SOME OF THEM (UPS,DHL,FEDEX) SIMPLY TOOK SO LONG TO CONTACT ME, THAT IT BECAME STUPID, SIMON AT BARRINGTON CAME BACK TO ME VIRTUALLY STRAIGHT AWAY WITH A VERY GOOD PRICE, ALSO GOOD SHIPPING TIMES. NOW A SERVICE IS ONLY AS GOOD AS THE RESULTS, AND THEY WERE AS GOOD AS THEIR WORD. HAPPY TO HAVE FOUND THEM AND SIMON AT BARRINGTON FREIGHT WILL BE THE FIRST PERSON WE GO TO NEXT TIME, WELL DONE!!
Brilliant EXW freight forwarding services from China to the UK. Professionally done, readily available for support, and our shipments were trackable. There were last minute issues on regards to customs clearance and redirecting of goods that we take responsibility for, but with their quick action, we were able to swiftly solve it all in much less than 24hrs. Fantastic experience working with Simon and his team, will continue to engage them for the foreseeable future. Thanks again Simon and the BF team!
Barrington Freight was brilliant from start to finish. We had a very good shipping experience with them.
What a superb company especially Simon Poole the agent who handled all my inquiries even worked over weekend to clear and arrange for my items to be removed from airline shed to save us storage charges Then when there were a little issue with the airline loosening items he dealt with it very quickly. We will only use him for our import Clearence's now
I highly recommend Barrington freight. Simon could not do enough for me and as a first time user of freight services I was anxious. Simon guided me smoothly through the whole process from start to finish. I am beyond pleased with the service I was given.
Service Options for a Pallet Delivery to Europe
We would be delighted to help you if you require a particular type of service when shipping goods throughout the entire continent:
BUSINESS TO BUSINESS pickup and delivery as ROAD FREIGHT throughout the UK and EUROPE.
Groupage Freight Services: A Cost-Effective Solution For Single Pallet Deliveries To Europe
If you have a single pallet to ship to Europe, our groupage freight services are a great option. With groupage, your pallet is consolidated with other pallets going to similar destinations, saving you money on shipping costs. And don't worry, your pallet will be carefully packed and transported, just like any other shipment.
Our services are ideal if you also have a number of pallets to ship but not enough to fill a whole truck. Typically, for five pallets or more, end-to-end service will be offered with a direct collection and drop-off service, even if you do not have sufficient pallets to fill the truck completely. 
Groupage pallet deliveries to Europe are also surprisingly fast, especially to popular destinations. So, even if you're on a tight deadline, groupage freight services can still get your pallet where it needs to go on time.
Full Truck Shipments: Cheapest "Per Item" Cost For Larger Pallet Shipments
If you do have a large enough shipment, a full truck shipment is the cheapest option, since you'll have a dedicated vehicle for your pallets.
A full truck shipment will offer the cheapest "per item" cost for pallet deliveries to Europe since a whole vehicle can be dedicated to your multi-pallet consignment. You can fill your truck to the brim and off your palletised goods will go for a dedicated direct delivery.
Sprinter Van: A Quicker Pallet Courier Service In Europe
Barrington Freight's sprinter van service is ideal for urgent shipments and for smaller loads or just one pallet to Europe. We can even provide dedicated courier vans with two drivers if needed, ensuring continuous driving and the quickest possible delivery. 
Our experienced drivers and carefully maintained vehicles ensure that your goods are delivered safely and on time.
Here are a few examples of how Barrington Freight's sprinter van pallet courier service has helped our customers:
No matter how many pallets you have to ship, Barrington Freight has a solution for you. We offer a variety of services to meet your needs and budget, and we're committed to providing you with the best possible shipping experience. Look no further than Barrington Freight for your next pallet delivery to Europe.  Request a pallet shipping quote online today!
Global Pallet Delivery: Our Comprehensive Network
We offer more than just European pallet delivery; our services span across the globe, reaching numerous international destinations. Below are some of our most popular delivery locations.
FAQ about Pallet Delivery in Europe
We are friendly, easy to work with, honest and we do not charge the earth.
We are one of the top pallet shipping companies in the UK, so you can depend on Barrington Freight to transport any pallet delivery to Europe on time and in optimal condition. Call our team today to get all the information you need about sending your road freight to Europe with us. Alternatively, use our handy online quotation tool and see for yourself just how cost-effective we can be.